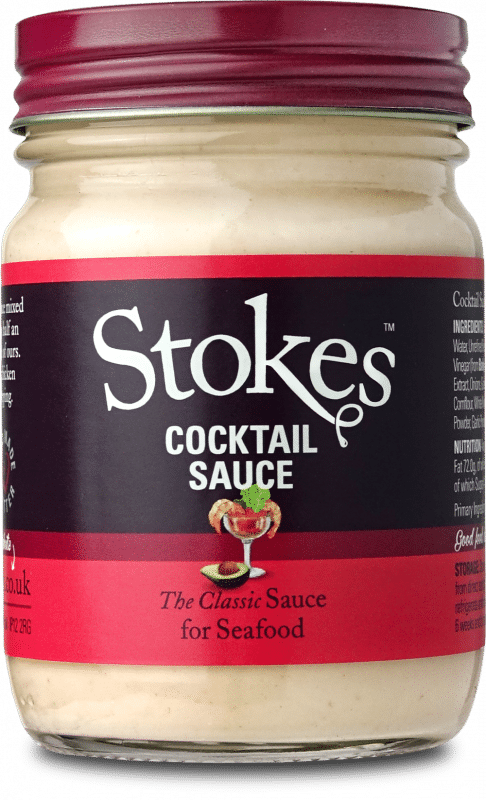 Cocktail Sauce
Perfect for seafood
A rich and creamy, tomatoey sauce perfect for seafood. Made with rapeseed oil, free-range whole eggs, pureed tomato and a little Spicy Table Sauce. Mix with prawns, chicken or tuna for a delicious potato topping or sandwich filling.
Create a delicious baked potato topping when you mix Stokes Cocktail Sauce with cooked chicken, tuna or prawns.
A rich and creamy seafood classic.
Ingredients
Rapeseed Oil (71%), Free Range Pasteurised Whole Egg (10%), Water, Unrefined Raw Cane Sugar, Tomato Puree (3%), Spicy Table Sauce (Water, Spirit Vinegar, Sugar, Colour: Caramel, Sugar Syrup, Salt, Tamarinds, Acid: Acetic Acid, Cayenne Pepper, Cloves, Garlic Oil, Stabiliser: Tragacanth Gum),
Spirit Vinegar, Sea Salt, Acid: Acetic Acid, Cornflour, White Wine Vinegar, Lemon Juice Concentrate, Mustard Flour, Onion Powder, Garlic Powder, Seasoning (Salt, Spice Extracts (contains Celery), Onion Extract)
Nutrition
Nutrition Average Values per 100g
ENERGY (KCAL) 671
ENERGY (KJ) 2763
FAT (g) 72.0
SATURATED FAT (g) 4.9
AVAILABLE CARBOHYDRATE (g) 4.3
SUGAR (g) 3.9
PROTEIN (g) 1.5
SALT (g) 0.7
Storage
Store in a cool place, away from direct sunlight. Once opened refrigerate and consume within 6 weeks and by best before end date.
Cocktail Sauce
Just like Stokes Tartare Sauce, Stokes Cocktail Sauce is amazing. Its by far the best sauce to go with prawns. I wish Tesco sold it as Stokes Sauces are not always easy to get hold of!
I normally make my own sauce for a prawn cocktail but not anymore………..
This sauce is simply the best. I mixed in a small amount of Stokes Mayonnaise, lemon juice, and topped it with paprika. The result was the perfect prawn cocktail. Brilliant!!
By far the best
By far the best cocktail sauce I could find. A great accompaniment to seafood. I purchased online directly from Stokes, great service, quick delivery well packaged. Proud to support an independent British company making such fab products.
COCK TALE SAUCE
Makes excellent prawn cocktail, to be followed by steak and Black Forest gateau, washed down with Blue Nun Liebfraumilch - like in the good old days, before the likes of Jammie Oliver, Gordon Ramsey etc ruined everything . Come back Fanny Cradock & Delia Smith, to inject some sense into good cooking!
Wow creamy!
Great in a sandwich with prawns! Delicious