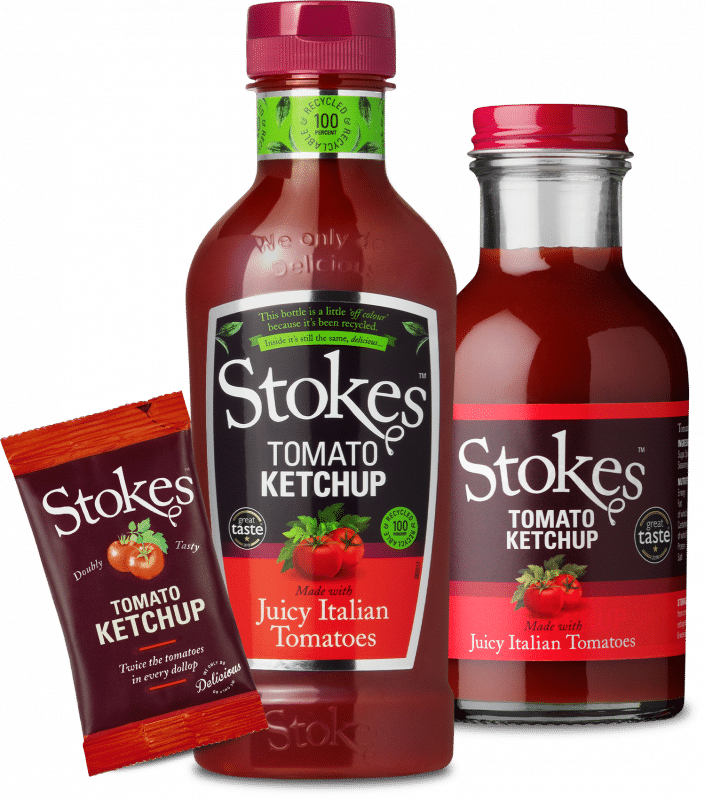 Real Tomato Ketchup
Made with juicy Italian tomatoes
The star of the Stokes range!
200g of sun-ripened, juicy Italian tomatoes are crammed into every 100g of this award-winning ketchup, giving it a rich tomatoey flavour which makes you wonder how you hadn't discovered it before!
Perfect with fish and chips, bangers & mash, and the great British breakfast. Also a fantastic ingredient for your favourite recipes too like Shepherds Pie or Spaghetti Bolognese. Available in our regular 300g bottle or the larger 580g bottle for true Ketchup fans!
The Great Taste award judges commented 'A very good textured ketchup. It's smooth and glossy. There is definitely a lot of quality tomato in here.'
Find 10 exciting ways to use our tomato ketchup here.
Add a generous dollop of Stokes Tomato Ketchup to Bolognese sauce or a Shepherd's Pie recipe for extra tomato flavour.
Crammed full of juicy Italian tomatoes
Vegetarian

Vegan

Dairy Free

Gluten Free
Ingredients
Tomatoes (200g in 100g ketchup), Unrefined Raw Cane Sugar, Spirit Vinegar, Cornflour, Sea Salt, Garlic Powder, Onion Powder, Seasoning (Salt, Spice Extracts (contains Celery), Onion Extract), Sorbic Acid.
Nutrition
Nutrition Average Values per 100g
ENERGY (KCAL) 120
ENERGY (KJ) 509
FAT (g) 0.1
SATURATED FAT (g) 0.0
AVAILABLE CARBOHYDRATE (g) 27.4
SUGAR (g) 19.6
PROTEIN (g) 1.7
SALT (g) 1.8
Storage
Store in a cool place, away from direct sunlight. Once opened refrigerate and consume within 6 weeks and by best before end date.
Really rich and handsome!
A gorgeous sauce which adds depth and flavour to a meal. I also use it in my pasta and rice sauces to add an extra complexity to the dish. I wouldn't be without it!
Tomato ketchup
Stokes tomato ketchup has a lovely rich flavour and perfect consistency. Well worth the little extra ££
Tomato ketchup
Stokes tomato ketchup has outstanding flavour. We conducted our own consumer trial of about eight different brands and found Stoke's to be the best and have purchased it ever since.
Tomato sauce
Ambrosial ketchup, great company
Sadly, one broken bottle have been given a credit on the bottle to be spent at next purchase. Team reacted promptly when contacted. Bottle was not smashed but had a hairline fracture which leaked over the carpet. Would not suggested avoiding purchase but would be worth checking box carefully - it appeared fine but was obvious once the box was turned over. Am certain that Stokes will discuss this with their delivery team.
My query - is there any likelihood of reuse rather than recycling?
Sourced at last
We always bought this from Costco but recently they never had stock.Bought direct and delivery was very fast and price was better than a certain rainforest in south america.Love it