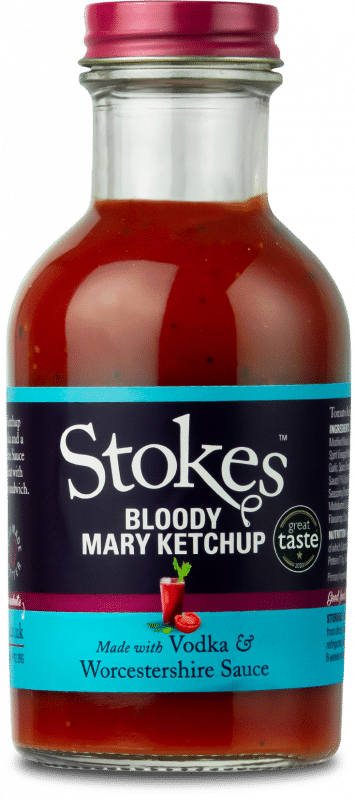 Bloody Mary Tomato Ketchup
Rich, colourful and full of body.
For anyone with a taste for really good ketchup here's a sauce to make you smile. Our classic tomato ketchup made with a dash of real vodka and a splash of Worcestershire sauce for a touch of Bloody Mary spice. Rich, colourful and full of body.
The Great Taste Award judges commented "Deep roasted tomato colour with a nose of exactly what the ingredients state. There is a sweetness on the front of the palate followed by some intense heat that lingers on. The tomato flavours are rich and inviting."
Not only is our Bloody Mary Ketchup the perfect condiment of choice for the full English breakfast but it makes a delicious pizza base too, full of flavour with added spice!
Award-winning ketchup, vodka and spice for that 'morning after'
Ingredients
Tomatoes (123g in 100g ketchup), Sugar, Spirit Vinegar, Thickener: Modified Maize Starch, Worcestershire Sauce (1%) (Malt Vinegar (from Barley), Spirit Vinegar, Molasses, Sugar, Salt, Anchovies (Fish), Tamarind Extract, Onions, Garlic, Spice, Flavourings), Vodka (1%), Celery Salt (1%) (Salt, Celery Seeds), Tabasco Sauce (1%) (Spirit Vinegar, Red Peppers, Salt), Garlic Powder, Onion Powder, Spice, Seasoning (Tomato Powder, Sea Salt, White Wine Powder (White Wine Concentrate, Maltodextrin), Sugar, Onion Powder, Cassia, Oregano, Thyme, Garlic Powder, Natural Flavourings, Clove, Natural Colour: Paprika Extract, Spice Extract, Onion Extract).
Nutrition
Nutrition Average Values per 100g
ENERGY (KCAL) 114
ENERGY (KJ) 486
FAT (g) 0.0
SATURATED FAT (g) 0.0
AVAILABLE CARBOHYDRATE (g) 36.0
SUGAR (g) 19.0
PROTEIN (g) 1.1
SALT (g) 1.3
Storage
Store in a cool place, away from direct sunlight. Once opened refrigerate and consume within 6 weeks and by best before end date.
New Experience
Now this is a real novelty - great with a Bacon Sandwich
Genius in a bottle
There is simply no better way to embellish a bacon butty, or to titillate scrambled eggs, or to supercharge chips, or any of the other things which demand tomato ketchup. This is the perfect luxury of deep, luscious tomato melded with a burst of spice and heat. The online service is pretty wonderful, too.
Wow.
We really like this sauce, great flavour, goes well with so many things, not just your full English breakfast.
We bought our first bottle in a farm shop, and as soon as it was finished we went back for more, a round trip of 100 miles.
It is hard to describe our disappointment when we arrived and there was not even one bottle left in the shop 😫
From then on we scoured the north east of England for another stockist of the Bloody Mary sauce, without any luck.
The only option left was to order online.
Stupidly we were a little worried about ordering online, not because of the quality of the sauce, but because we were didn't know how well the bottles would survive the journey.
We need not have worried.
Ordering was very straight forward and efficient.
Our order arrived very quickly.
The attention to detail in both the quality and effectiveness of the packaging was amazing (well done to whoever designed it).
And the bottles of sauce are now being put to good use, it's surprising how many different dishes benefit from a splash of this sauce, yesterday the sauce was liberally splashed over scrambled eggs and smoked salmon.
Keep up the good work Stokes.
P.S. we are working our way through the other products, and so far we have no complaints 😋
Best Ketchup ever!
Brings out the flavour of the food but has an extra kick to it! Love it!! 😍
Best ketchup ever!
My Italian friends will hate me for saying this, though Stokes Bloody Mary ketchup really perks up a lasagne!