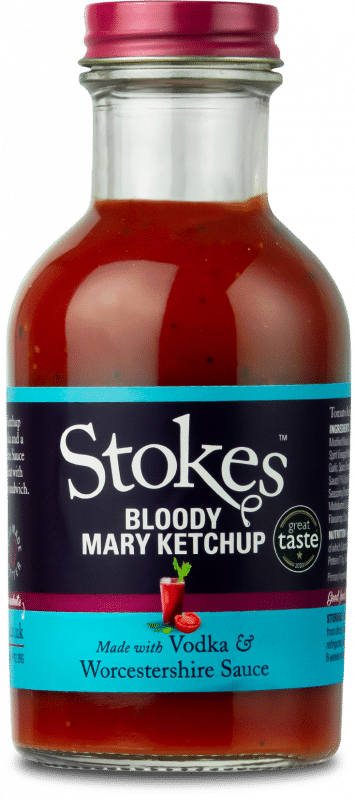 Bloody Mary Tomato Ketchup
Rich, colourful and full of body.
For anyone with a taste for really good ketchup here's a sauce to make you smile. Our classic tomato ketchup made with a dash of real vodka and a splash of Worcestershire sauce for a touch of Bloody Mary spice. Rich, colourful and full of body.
The Great Taste Award judges commented "Deep roasted tomato colour with a nose of exactly what the ingredients state. There is a sweetness on the front of the palate followed by some intense heat that lingers on. The tomato flavours are rich and inviting."
Not only is our Bloody Mary Ketchup the perfect condiment of choice for the full English breakfast but it makes a delicious pizza base too, full of flavour with added spice!
Award-winning ketchup, vodka and spice for that 'morning after'
Ingredients
Tomatoes (123g in 100g ketchup), Sugar, Spirit Vinegar, Thickener: Modified Maize Starch, Worcestershire Sauce (1%) (Malt Vinegar (from Barley), Spirit Vinegar, Molasses, Sugar, Salt, Anchovies (Fish), Tamarind Extract, Onions, Garlic, Spice, Flavourings), Vodka (1%), Celery Salt (1%) (Salt, Celery Seeds), Tabasco Sauce (1%) (Spirit Vinegar, Red Peppers, Salt), Garlic Powder, Onion Powder, Spice, Seasoning (Tomato Powder, Sea Salt, White Wine Powder (White Wine Concentrate, Maltodextrin), Sugar, Onion Powder, Cassia, Oregano, Thyme, Garlic Powder, Natural Flavourings, Clove, Natural Colour: Paprika Extract, Spice Extract, Onion Extract).
Nutrition
Nutrition Average Values per 100g
ENERGY (KCAL) 114
ENERGY (KJ) 486
FAT (g) 0.0
SATURATED FAT (g) 0.0
AVAILABLE CARBOHYDRATE (g) 36.0
SUGAR (g) 19.0
PROTEIN (g) 1.1
SALT (g) 1.3
Storage
Store in a cool place, away from direct sunlight. Once opened refrigerate and consume within 6 weeks and by best before end date.
Best ketchup ever!
My Italian friends will hate me for saying this, though Stokes Bloody Mary ketchup really perks up a lasagne!
Best Tastiest Ketchup you can buy
Tried The Bloody Mary Ketchup while on holiday in the Cotswolds, What a taste.. The best ketchup i,ve every tasted..Had to order some more when i got home..Absolutely
fantastic and goes with everything..Well done Stokes.
Best Ketchup EVER!!
The Stokes Bloody Mary Ketchup is the best Ketchup I have ever tasted. Everytime I shop at Waitrose I pick up 3 or 4 bottles. My partner thinks I am insane, but it is just that good. I don't want to insult other Ketchup manufacturers, but I am not sure how long the others will be in business whilst Stokes continue to make products of this quality. I am almost depressed when I come to eat a meal that doesn't require ketchup! I am now going to purchase some other Stokes products, but I am almost too afraid of tasting them if they're as good as this ketchup!
Delicious
This was bought as a gift and I know the recipients enjoyed it.
I'm totally hooked!
This Bloody Mary sauce is so good, I'm totally hooked and it will most definitely be a regular in my fridge from now on. I honestly can't say enough about how amazing this sauce is.
Altho something I really think you need to look at is the amount of packaging this 1 bottle came in, it was in a small box with packing inside a big box with load of packing which I know is for protection but it was comical opening it all and then getting a small bottle inside. Next time I will definitely be buying in bulk but I just thing it's something you should look at.