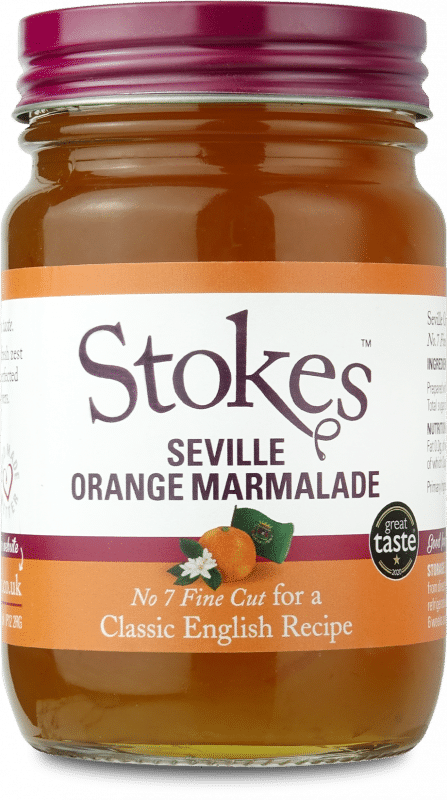 Seville Orange Marmalade
Traditional English recipe
Classic fine cut marmalade made to a traditional English recipe and rich in Seville Oranges (39%).
Warm a couple of tablespoons and paste onto sausages for a sticky glaze!
Classic fine cut marmalade.
Vegetarian

Vegan

Dairy Free

Gluten Free
Ingredients
Sugar, Seville Oranges, Lemon Juice.
Prepared with 40g of fruit per 100g
Total sugar content 64g per 100g
Nutrition
Nutrition Average Values per 100g
ENERGY (KCAL) 278
ENERGY (KJ) 1181
FAT (g) 0.0
SATURATED FAT (g) 0.0
AVAILABLE CARBOHYDRATE (g) 69.0
SUGAR (g) 68.0
PROTEIN (g) 0.0
SALT (g) 0.0
Storage
Store in a cool place, away from direct sunlight. Once opened refrigerate and consume within 6 weeks and by best before end date.
Smaller jar has diminished the taste
I was lucky enough to try for the first time, Stokes marmalade in the 454 g jar. I am a marmalade addict, and never had a day without it. I have never tasted such wholesomely good marmalade as Stokes. However, sadly the flavour has somewhat diminished in the 320 g jar because being smaller, the marmalade doesn't 'flow' quite so freely to release as much flavour as in the 454g jar. This is such a shame and a mistake as you are restricting your own brilliant flavour that you've captured perfectly in a marmalade. Please bring it back. Considering you reduced the size to 320 g for profitable reasons, you can surely increase the price of the 450 g jar to around £4.79.
Fantastic marmalade. Shame about the smaller size jar.
Seville Marmalade
Absolutely love this marmalade- doesn't last very long in this household!!
Seville Orange Marmalade
Best Marmalade on the market the trouble is it doesn't last very long
We appreciate your kind words!
the best ever
my wife just loves it , i have tasted it but due to the sugar content I don't eat a lot of it but you won't find better!