Spicy Crispy Chicken & Bacon Burgers
A Stokes recipe by our Resident Chef
What you'll need
Buy now
Habanero Chilli Mayonnaise
Add Selected Products
From your local shop
2 Burger Buns
4 Chicken Breasts
4 Rashers of Smoked Bacon
125g Panko Breadcrumbs
2 Eggs
200ml Milk
Flour for dusting
Vegetable Oil for frying
Salt & Pepper
Fajita Seasoning
¼ Iceberg Lettuce
2 Slicing Tomatoes
This is another recipe where Resident Chef, Andy, shows us how to crisp up the chicken coating to a delicious crunch around a juicy chicken centre. Our Habanero Chilli Mayonnaise is a hot and spicy mayonnaise with fermented red habanero chilli and fragrant coriander for a real depth of flavour. All this wrapped in velvet-smooth mayonnaise.
Method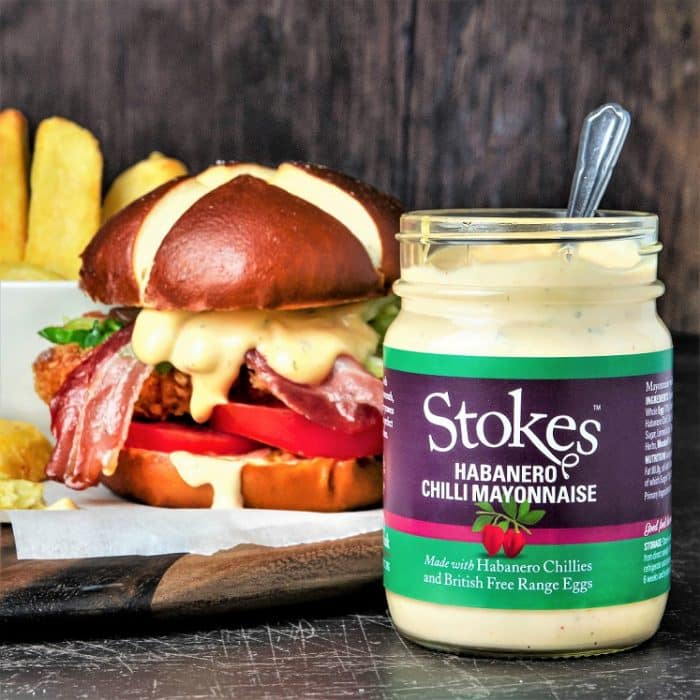 Cut each chicken breast in half lengthways from one edge so you have 2 evenly sized flat chicken escalopes (this will make it easier to coat in the breadcrumbs).
Beat the eggs and milk together to make the egg wash. Coat the chicken escalopes with flour mixed with 1 to 2 tablespoons of fajita seasoning, then pass through the egg wash, and then into the breadcrumbs.
Heat a frying pan with a splash of oil. Season the chicken escalopes and fry both sides until golden and transfer to a hot oven (180c) for 8-10 minutes until cooked through.
Whilst the chicken is cooking, finely shred the lettuce, slice the tomatoes and fry the bacon.
Toast the burger buns and spread a generous layer of Stokes Habanero Chilli Mayonnaise on the base.
Top with finely shredded lettuce, sliced tomatoes, a couple of chicken escalopes, a few rashers of bacon and the burger bun.