Spicy Vegetable Empanadas
A Stokes recipe by our Resident Chef
Serves 8
50 minutes (inc chilling)
What you'll need
Buy now
Hot & Spicy BBQ Sauce
Add Selected Products
From your local shop
3 Courgettes cut into small dice
1 Aubergine cut into small dice
100g Baby Spinach
15g Fresh Coriander chopped.
1 400g Tin Chopped Tomatoes
1 Red Pepper cut into small dice
300g Plain Flour
120g Chilled Butter cut into rough chunks
2 Egg Yolks
6 Medium Tomatoes
1 Red Onion Peeled & thinly sliced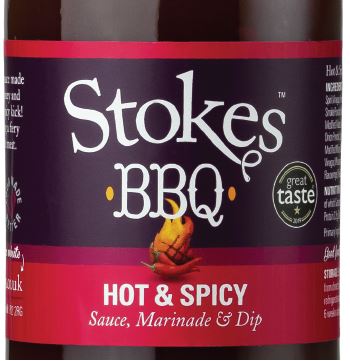 Our Hot & Spicy BBQ Sauce is sweet, smoke flavoured chilli BBQ sauce. Heat develops as an after flavour from the flecks of chilli seeds. Makes a fantastic marinade for chicken and pork, and gives a spicy kick to a traditional hunters chicken.
Method
In a deep saucepan, heat the vegetable oil and add the Courgettes, Aubergine and Red Pepper.
Cook for 5-10 minutes until the vegetables start to soften. Add the chopped tomatoes and baby spinach and cook until the spinach has wilted. Season with salt & Pepper, fresh coriander and Stokes Hot & Spicy BBQ sauce. Set aside.
For the pastry, in a food processor, mix the flour, butter and salt together until it has a texture like breadcrumbs. Add the egg yolks and add the water a little at a time until the pastry starts to bind. If it's a little dry add a little more water.
Knead the dough a few times and wrap in cling film and chill for 30 minutes.
Once chilled, cut the dough in half and roll out into 2 even pieces. Cut 4 even circles from each piece and put a generous amount of filling in the centre of each circle. Brush the edges with cold water and fold over to form a semi-circle shaped pastie.
Brush each pastie with egg wash and air fry for about 8 minutes until golden.
For the Salsa chop the tomatoes into rough dice. Mix with the sliced Red Onion, Olive oil and seasoning.
Serve immediately with the Salsa and a dollop of Stokes Hot & Spicy BBQ Sauce.
Total Cost £6.85. £0.85p per portion.