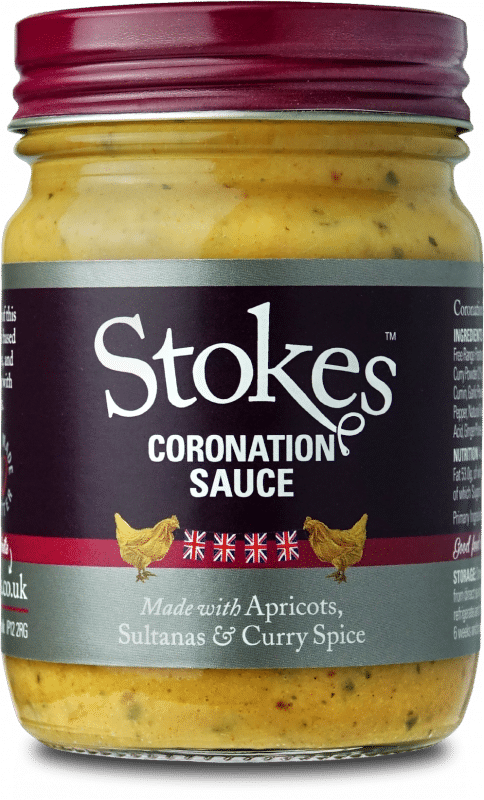 Coronation Sauce
Classic chicken sauce
A twentieth-century classic. Creamy, fruity and spicy all at once! Made with apricots, sultanas and curry spice for the delicious classic chicken sauce.
Make a dip to remember when you mix Stokes Coronation Sauce evenly with crème fraiche for a delicious fruity curry dip.
Mayonnaise with Curry Spices, Apricots and Sultanas.
Vegetarian

Dairy Free

Gluten Free
Ingredients
Rapeseed Oil (49%), Apricots (17%), Unrefined Raw Cane Sugar, Free Range Pasteurised Whole Egg (7%), Water, Extra Virgin Olive Oil PDO, Sultanas (3%), Curry Powder (2%) (Coriander, Mustard Flour, Turmeric, Fenugreek, Paprika, Salt, Ginger, Garlic, Cumin, Green Cardamom, Onion, Black Pepper, Clove, Natural Colour: Turmeric Extract, Natural Flavouring), Malt Vinegar (from Barley), Herbs, Sea Salt, Acid: Acetic Acid, Ginger Purée, Garlic Purée, Preservative: Sorbic Acid, Mustard Flour, Spice.
Nutrition
Nutrition Average Values per 100g
ENERGY (KCAL) 568
ENERGY (KJ) 2349
FAT (g) 52.9
SATURATED FAT (g) 3.8
AVAILABLE CARBOHYDRATE (g) 20.7
SUGAR (g) 19.3
PROTEIN (g) 1.7
SALT (g) 0.5
Storage
Store in a cool place, away from direct sunlight. Once opened refrigerate and consume within 6 weeks and by best before end date.
Still great product ,but big increase in price due to smaller size jar. Price's do go up but I would have preferred same size jar and pay a bit more .
This new size jar is barely enough for two adults for a main meal , have use more than one jar so it has become an expensive meal .
Thanks
Smaller and more expensive
Great sauce, shame that we love it so much as Stokes decided to reduce the bottle size by 39% and while at it took the opportunity to increase the price per 100g by 39% from my previous order.
I see others have noticed!! Maybe Stokes should go back to using normal size Jars?
coronation sause
very good product nice taste, only the jars are smaller down from (360gto220g for the same price
Coronation sauce - Great product, pity about the much smaller jar size!
Love the product, but the jar appears to have shrunk considerably in size, (from 360g to 220g) for the same price. The new jar is barely large enough even for one meal, which is a shame considering the price.
Coronation sauce
We love love love this sauce and I recently took delivery of 2 jars. The packaging was well done but excessive. My real disappointment was the size of the jars. I never thought to check before ordering that they would have shrunk. 360g now shrunk to 220g what a comedown. This is a massive scale down for the same price I was paying before. When postage was added it made it a real let down. I use this in all sorts of ways and to me the bigger the better. Our local supplier to Leeds is in Harrogate so please try find more local outlets if possible.