Dark Chocolate & Strawberry Jam Brownies
A Stokes recipe by our Resident Chef
Serves 10+
1 hour
Vegetarian
What you'll need
Buy now
Add Selected Products
From your local shop
Caster Sugar (250g)
Plain Flour (100g)
Cocoa Powder (40g)
Butter (100g)
3 Large Free-Range Eggs
Dark Chocolate
Chocolatey, Gooey and Fruity, these moreish treats take you straight to chocolate heaven! Made extra special by using the 2 special quality ingredients.
Method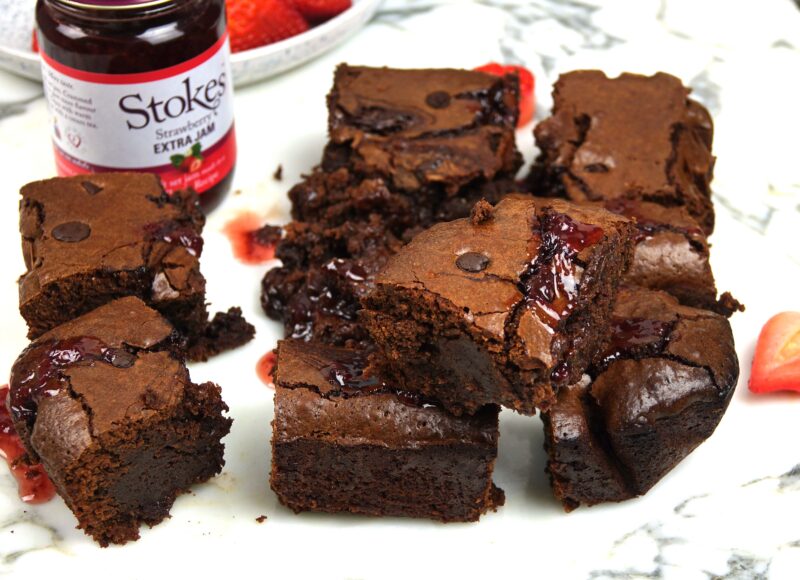 Preheat the oven to 180°C/Fan and prepare a baking tin with baking paper inside covering all sides.
In a bowl mix together the sugar, plain flour (Gluten-Free if required), cocoa powder, butter, and the 3 eggs. Mix thoroughly until evenly blended. Then add the half a bar (35g) of the Pump Street chocolate. Mix until evenly blended into the mixture.
Pour the mixture into the prepared baking tin and top with 8 large teaspoons of Stokes Raspberry Extra Jam.
Bake for 35 to 40 minutes at 180°C/Fan.
Allow the brownies to cool in the tin for around 10 minutes. Cut into squares and enjoy served with a scoop of clotted cream ice cream whilst still warm. Perfection!