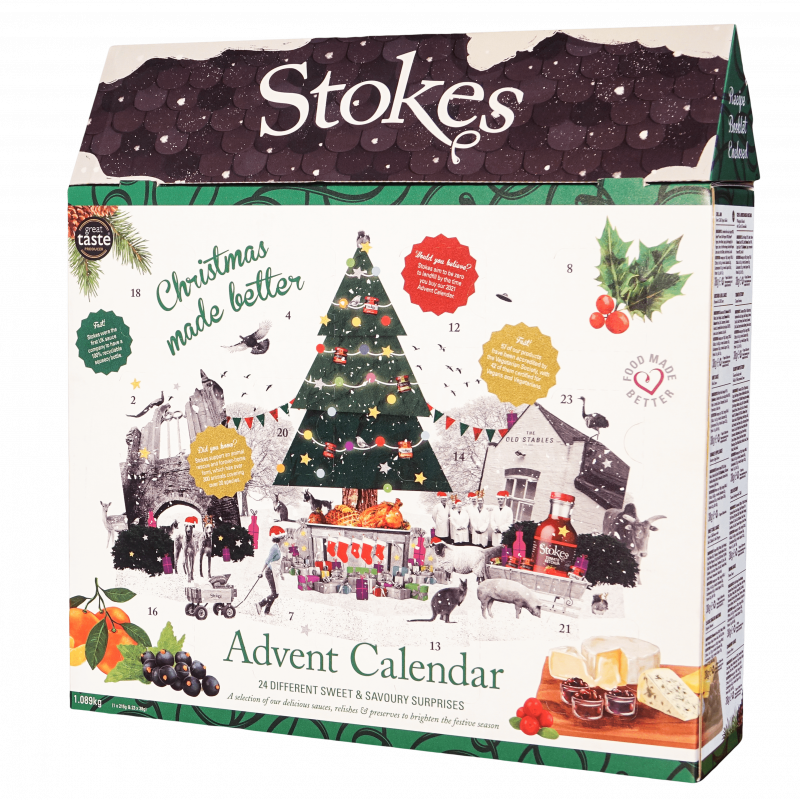 The Stokes Advent Calendar
The Stokes Advent Calendar
24 delicious jars of joy!
Say hello to the taste of Stokes, with something new to excite your taste buds every single day of Advent.
The Stokes Advent Calendar features a mix of 24 of our most loved ketchups, sauces, traditional condiments, relishes, chutneys and preserves. 23 are in mini 38g jars, with a full-sized 215g jar of Cranberry & Orange Sauce with Ruby Port to complete the 24 delicious days, perfect to enjoy with the Christmas Turkey!
The Advent Calendar is a generous gift for the whole family to enjoy. Styled as a stable, as much to reflect The Old Stables in Rendlesham (our Suffolk home of 'tasty'), as it does to the nativity scene this festive season celebrates.
As well as a jar and interesting fact or top tasting tip behind each window, the calendar also includes a recipe booklet full of exciting Christmas themed recipes and tips from our resident chef to help you get the most from the wonderful array Stokes products you enjoy.
Something new to excite your taste buds every single day of advent!
Ingredients
Click HERE to see the list of ingredients and nutritional information.
Outstanding Service, great product
My Mum is spending her 8th month self isolating as many are and I thought this would cheer her up. Amazing service from Ben has enabled her to get her delivery and she is over the moon and looking forward to the days to investigate other flavours. Thank you!
Great product, didn't travel well
Fantastic idea and really great mix of products. However, I had to rebuild it on arrival as nothing was where it should be.
Great and very tasty pre-Xmas treat
Delivered promptly, this Advent Calendar counts down the days to Christmas while also introducing us to wonderful Stokes Sauces products every day. Even better than chocolate!
Full of festive cheer
Excellent quality, fast delivery.
A real advent
Looks so good ordered a second one for my mum for her first December on her own.