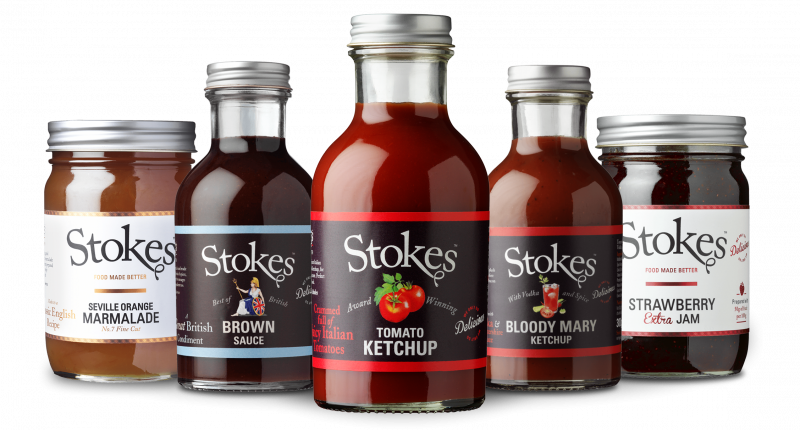 Breakfast Collection
Make the most of any cooked breakfast
Whether you like your sauce red or brown, these classics will make the most of any cooked breakfast!
Rich Tomato Ketchup made with juicy Italian tomatoes, Brown Sauce, a British favourite, Bloody Mary Ketchup made with real vodka and Worcestershire sauce for an extra twist and Jam & Marmalades perfect with a hot buttered wedge of toast!
The Breakfast Collection contains the following Stokes Sauces:
To bring your breakfast alive!
Great Breakfast Collection
I only recently discovered you can buy the whole collection plus others e.g. roast dinner collection. Would make a nice gift as opposed to biscuits, chocolates, etc. We are working our way through the sauces, jam and marmalade not necessarily just at breakfast time! Would recommend.
Delighted with quality and service
Had some trouble getting an order placed due to my lack of skills in navigating the website, but the Stokes Customer Services team were very helpful. All products are delicious, although my order contained two bottles of the tomato sauce and not the Bloody Mary version . Will definitely buy more in the future.
Great selection
My family already loved the tomato ketchup which is why I went in the site in the first place to order more. However when I saw your breakfast selection I thought we would give it a go. After a week nearly half a jar of strawberry jam has disappeared and a good third of the marmalade. So it looks like I will be ordering some more very soon! Quick delivery very happy family!!
Delicious selection
Well received as gifts for those chaps of a certain age who don't need anything, but love their food. Excellent quality sauces, jams & marmalades etc. Brilliant service from a great company too...
Not Cheap BUT Quality, well worth every penny.
Delicious every one we have tried so far. The marmalade is like my Grandmother used to make 70yrs ago just after the war when oranges became available once again.