Vegan 'This Isn't Bacon' & Sticky Red Onion Pizza
A Stokes recipe by our Resident Chef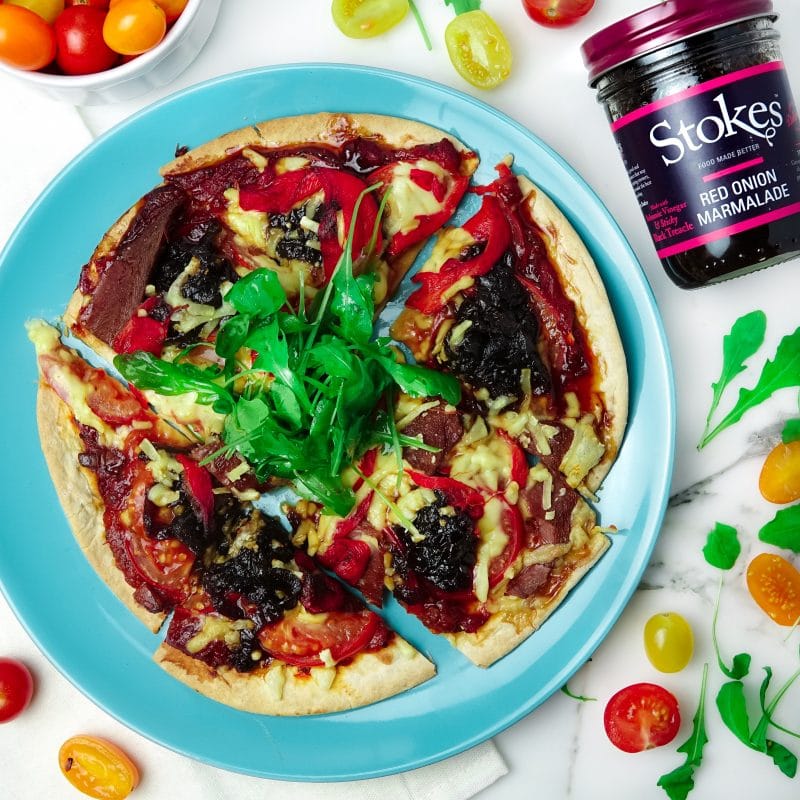 What you'll need
Buy now
Add Selected Products
From your local shop
1 Pack 'This Isn't Bacon' Rashers
1 Vegan Pizza Dough
50g Tomato Puree
30g Sundried Tomatoes
40g Vegan Cheese
A small bunch of Rocket
3-5 Roasted Red Peppers
This recipe uses a vegan bacon alternative from This with their 'This Isn't Bacon Rashers'. You can learn more here.
Method
Start by preheating your oven to 200°C and fry 2-3 of the vegan bacon rashers as per the instructions on the packet.
Roll out the pizza base on a large baking tray. You can either make your own vegan pizza dough using a recipe that we recommend here: Vegan Pizza Dough Recipe or buy ready-made dough online here: Ready Made Vegan Pizza Dough. Once rolled out, use the back of a spoon to spread the tomato purée evenly over the base and scatter over slices of the plant-based bacon, sliced red peppers, sundried tomatoes, vegan cheese and small dollops of our Red Onion Marmalade dotted over the pizza.
Bake until the cheese is melted and the base is crisp, (approx 10 minutes).
Once cooked, serve with a little rocket tossed in some olive oil.
As always, enjoy!