Sausage, Mash & Katsu Curry Sauce
A Stokes recipe by our EASY 'Meal-Making' Sauce Team
Serves 2+
30 minutes
Gluten Free
Vegetarian
What you'll need
Buy now
Add Selected Products
From your local shop
2 Large Maris Piper Potatoes
4 Butchers Sausages
100ml Coconut Milk
Chopped fresh coriander
Our new EASY Katsu Curry Sauce is a sweet and fruity Japanese-style curry sauce enriched with soy sauce, honey and coconut. Classically, it is served with breaded chicken & rice, but it's also little short of 'amazing' on sausages & mash! Read about it's innovation from a childhood memory – HERE.
Method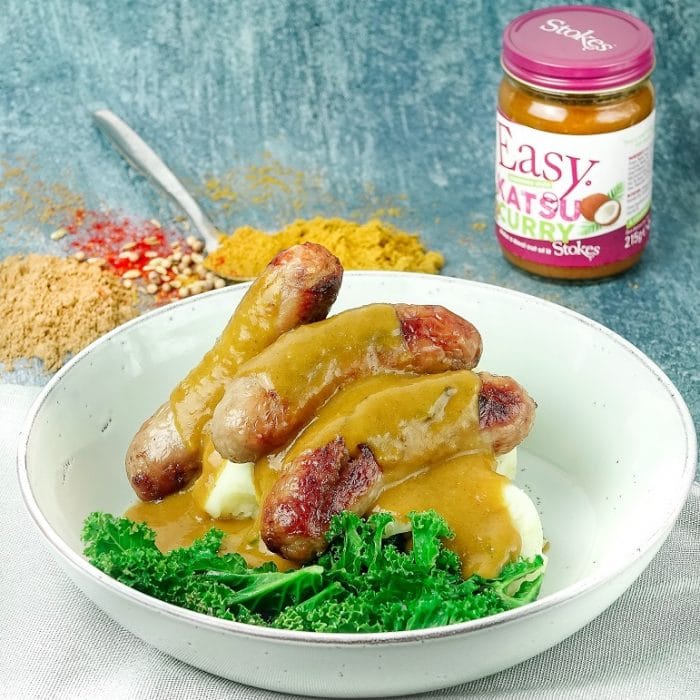 Prepare the potatoes for boiling in slightly salted water until soft enough for mashing; drain and allow to steam for a couple of minutes (this helps for a fluffy mash); mash with butter and seasoning to taste.
Fry off your sausages and transfer them to a hot over (180c ) for 10-15 mins until cooked through.
Heat the Katsu Curry Sauce with the chopped coriander and coconut milk; pour the Katsu over your Sausage & Mash and serve with your favourite green veg – personally we love seasonal Curly Kale!