Salmon Fishcakes
A stokes recipe by us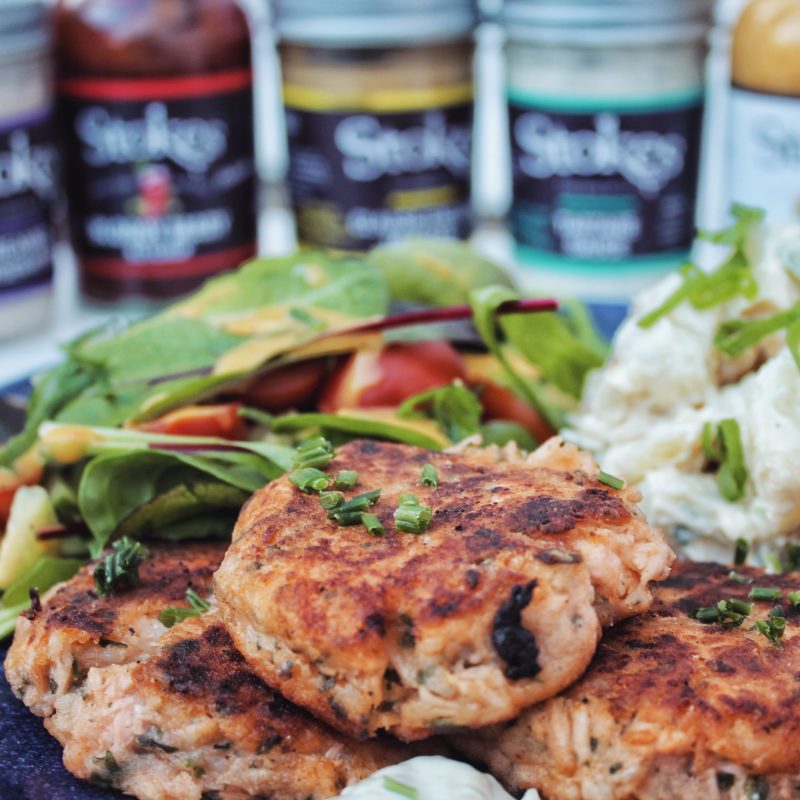 What you'll need
Buy now
Bloody Mary Tomato Ketchup
Creamed Horseradish Sauce
Mango & Orange Dressing
Add Selected Products
From your local shop
Potatoes (200g)
Salmon (220g)
Chopped Fresh Chives (2 tbsp)
Chopped Fresh Parsley (2 tbsp)
Salt and freshly ground Black Pepper
1 Lemon
1 Free-Range Egg
By adding a glug or two of our Bloody Mary ketchup to the Fishcake mix, it adds a warm, sweet tomato flavour bringing out the best in the Salmon.
Method
Boil the potatoes in salted water until cooked, then mash with a fork and set aside to cool.
Place the salmon in tin foil on a baking tray, season with lemon zest, a squeeze of lemon, salt and pepper, wrap the fish up to steam for 15 mins or until cooked and flaking.
In a bowl, add the cooked salmon, mash, parsley, chives, horseradish, Bloody Mary Ketchup, a squeeze of lemon, salt and pepper and gently mix together.
Flour your hands and shape the mixture into either small or large patties on to a plate, dust each side with flour and place in the fridge for an hour to set.
Heat oil in a pan and fry each side until golden brown.
Serve with a potato salad, a green salad topped with Stokes Mango and Orange Dressing and a dollop of Stokes Tartare Sauce for the fishcakes.