Salmon Fishcakes
A Stokes recipe by us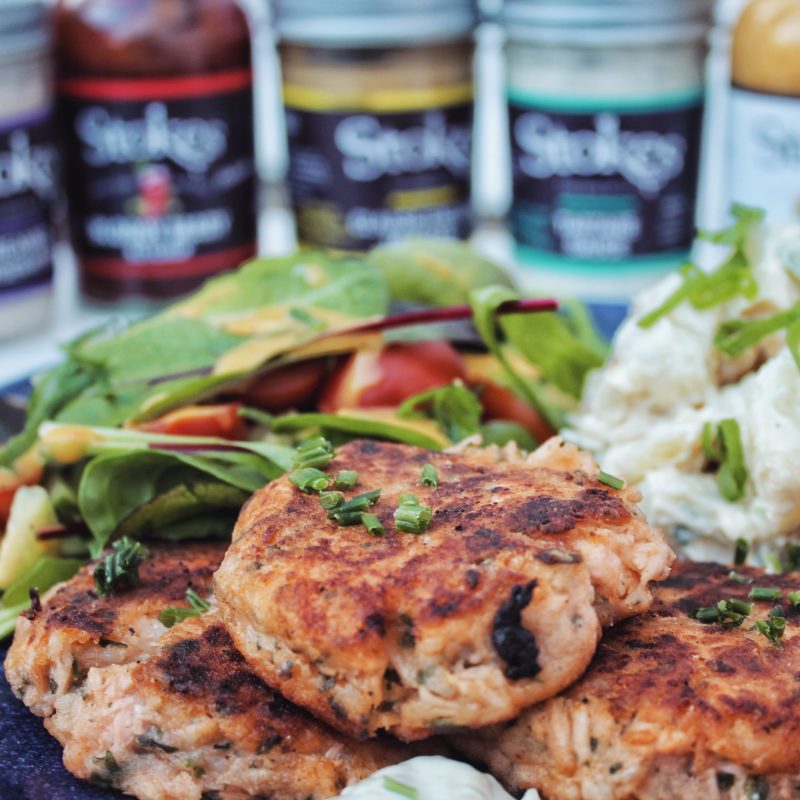 What you'll need
Buy now
Bloody Mary Tomato Ketchup
Creamed Horseradish Sauce
Mango & Orange Dressing
Add Selected Products
From your local shop
Potatoes (200g)
Salmon (220g)
Chopped Fresh Chives (2 tbsp)
Chopped Fresh Parsley (2 tbsp)
Salt and freshly ground Black Pepper
1 Lemon
1 Free-Range Egg
By adding a glug or two of our Bloody Mary ketchup to the Fishcake mix, it adds a warm, sweet tomato flavour bringing out the best in the Salmon.
Method
1) Boil the potatoes in salted water until cooked (approx. 20 minutes), then mash with a fork and set aside to cool.
2) Place the salmon in tin foil on a baking tray, season with lemon zest, a squeeze of lemon, salt and pepper, wrap the fish up to steam for 15 mins or until cooked and flaking.
3) In a bowl, add the cooked salmon, mashed potato, parsley, chives, a large spoonful each of Stokes Creamed Horseradish Sauce and Bloody Mary Ketchup, a squeeze of lemon, salt and pepper, and gently mix together.
4) Flour your hands and shape the mixture into either small or large patties on to a plate, dust each side with flour, and place in the fridge for an hour to set.
5) Heat oil in a pan and fry each side of the fishcakes on a medium heat until golden brown.
6) Serve with a potato salad, a green salad topped with Stokes Mango & Orange Dressing, and a generous spoonful of Stokes Tartare Sauce for the fishcakes.
1) Boil new potatoes in salted water for 20 mins, or until cooked, drain and cool.
2) Cut the potatoes into small chunks, place into a mixing bowl and add Stokes Mayonnaise and Mustard to taste. Then mix together along with some fresh parsley before seasoning with salt and pepper.