Potato Latkes with Smoked Salmon
A Stokes recipe by our Resident Chef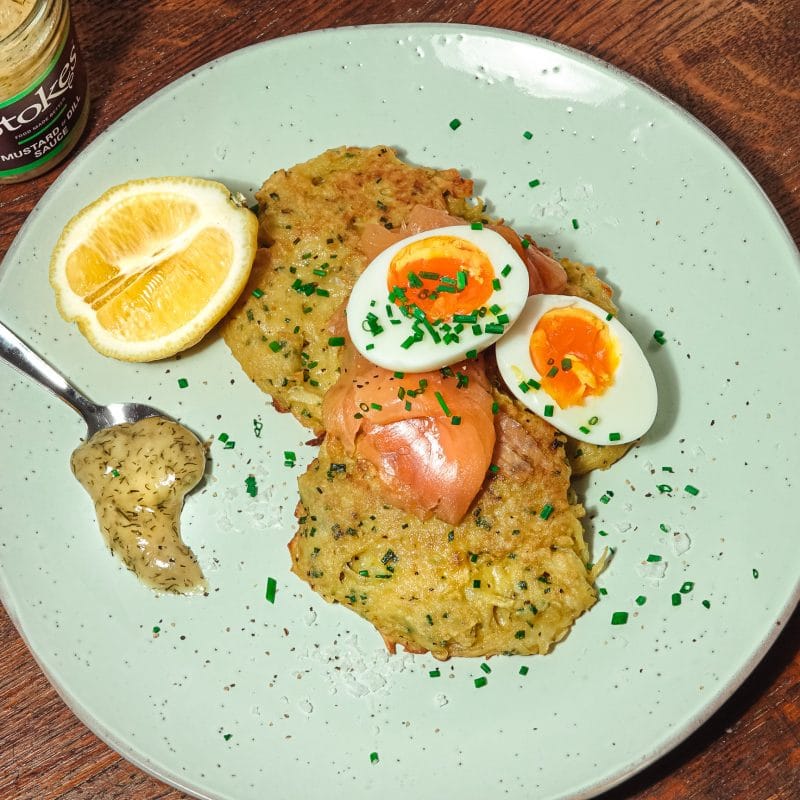 What you'll need
Buy now
Add Selected Products
From your local shop
750g Maris Piper Potatoes (Peeled)
1 Onion (Peeled)
6 Free-Range Eggs
Vegetable Oil For Frying
4 tablespoons Plain Flour
Smoked Salmon (To Serve)
1 Fresh Lemon (To Serve)
Method
Start by coarsely grating both the peeled potatoes and onion and using a clean towel, wrap the mixture and squeeze to wring out the liquid.
Add the mixture to a mixing bowl along with 2 of the eggs, the flour, season with salt and pepper and mix well to combine.
Shape small handfuls of the mixture into a small thick pancake shape. The mixture should make roughly 12 latkes.
Add enough of the oil to a frying pan to cover the base and heat to a medium temperature. Once up to temperature, fry the latkes for roughly 2 minutes on each side, or until golden. You may need to work in batches due to space. Once cooked, place on kitchen paper to drain off any excess cooking oil.
Serve with boiled eggs, smoked salmon, a squeeze of lemon and our Mustard & Dill Sauce for a delicious breakfast/brunch.
As always, enjoy!