Orzo & White Bean Soup
A Stokes recipe by our EASY 'Meal-Making' Sauce Team
Serves 3 - 4
30 minutes
Dairy Free
Gluten Free
Vegan
Vegetarian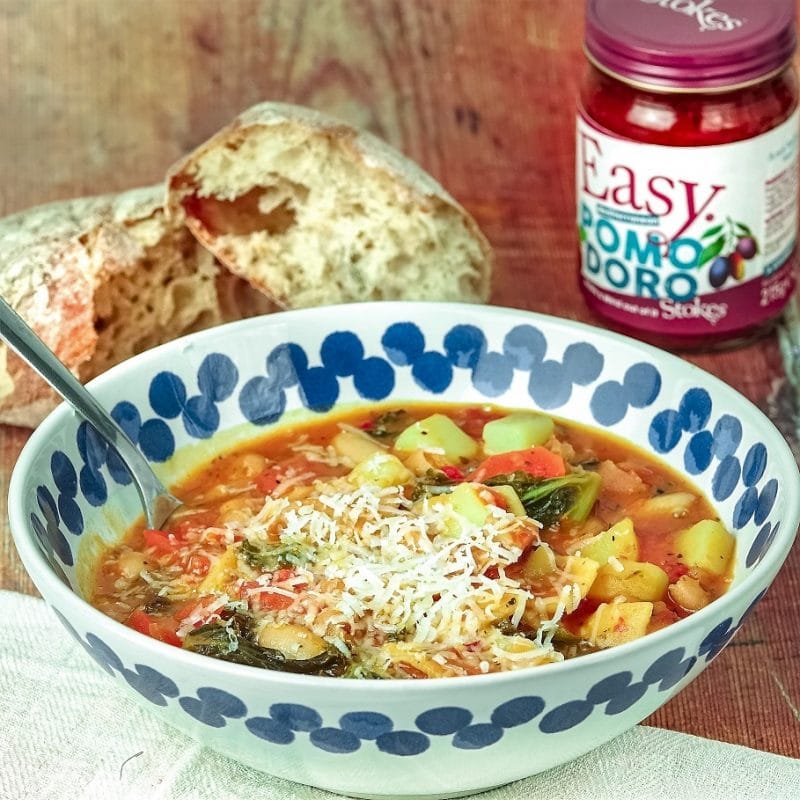 What you'll need
Buy now
Add Selected Products
From your local shop
1 tin haricot beans (drained)
2 rashers of bacon
1 carrot peeled and chopped.
torn 'frizzy' edges of kale
1 medium potato peeled and chopped.
75g orzo pasta
200ml vegetable stock
Grated Parmesan
Our NEW EASY Pomodoro 'Meal-Making' Sauce is a delicious combination of juicy sun-ripened tomatoes, garlic, Cretan Koroneiki extra virgin olive oil and Herbes de Provence. It is perfect with pasta and wonderful as a base for your favourite pizza. Here, it adds true Mediterranean depth of flavour to this hearty Springtime soup. Read more about our new EASY range HERE.
Method
Chop the vegetables and bacon into 1 cm pieces.
Heat a few splashes of olive oil in a deep pan and add vegetables. Fry for 5 minutes on a medium heat and then add the bacon and cook for another 5 minutes. Add the pasta and vegetable stock and cook for 8 minutes.
Add the Stokes EASY Pomodoro Sauce to the simmering pasta pan, adding a little extra water if too thick. Stir in the haricot beans and simmer for a further 5 minutes.