Haggis & Red Onion Scotch Eggs
A Stokes recipe by our Resident Chef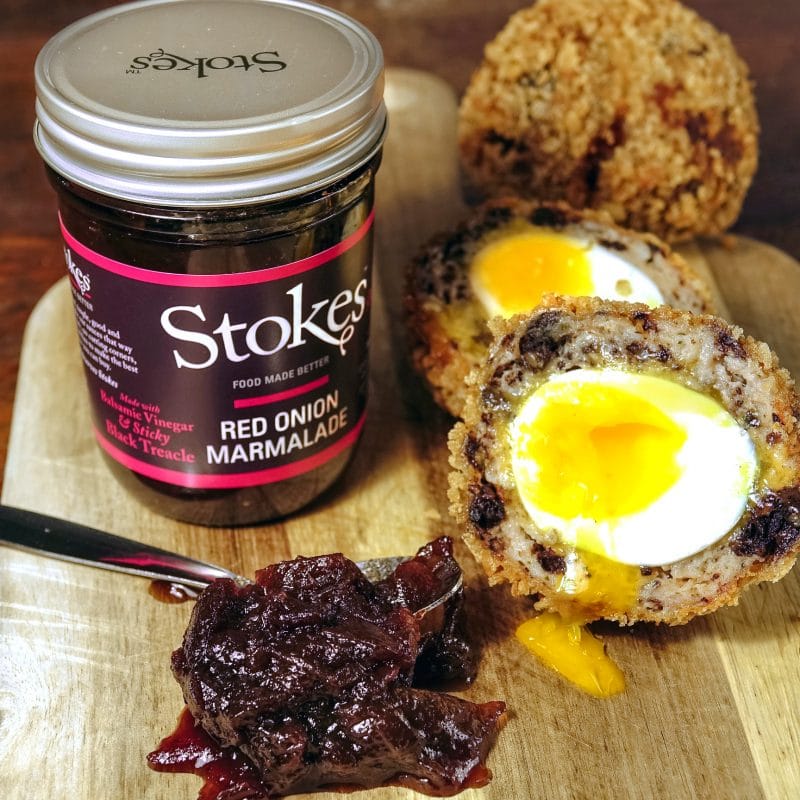 What you'll need
Buy now
Cider & Horseradish Wholegrain Mustard
Add Selected Products
From your local shop
375g Sausage Meat
150g Haggis
7 Free range eggs (2 eggs for the egg wash)
Panko Breadcrumbs
Plain Flour
Salt & Pepper
Best served warm with a generous helping of Stokes Red Onion Marmalade
Method
Crumble the Haggis, mix with the sausage meat, season with salt & pepper and add a dollop of Stokes Cider & Horseradish Mustard.
Boil a pan of water and lower 5 of the eggs into the pan using a spoon to avoid the eggs cracking. Cook for 5 minutes and then lift out into a bowl of iced water to cool the eggs rapidly. This will allow the shells to come off easier and keep the yolks runny. If you prefer a set yolk, cook the eggs for a further 3 minutes.
Divide the sausage meat mix into 5. Now the clever bit… Take a piece of cling film (about 15 cm) and dust with flour. Place one piece of the sausage meat on the cling film and cover with another sheet of cling film the same size. Using the palm of your hand press down the sausage meat so it starts to spread out to about the size of your hand and approximately 1cm thick. Remove the top sheet of clingfilm and place 1 egg in the centre. Using the edges of the clingfilm, lift the sausage meat so it goes around the egg like a blanket. Use the clingfilm to wrap the egg and this will make it easier to shape the scotch egg round.
Repeat for the other eggs and once all wrapped, chill in the fridge for 20 minutes. This will make it easier to breadcrumb the eggs later.
Beat the remaining 2 eggs with a generous dash of milk to make the egg wash. Remove the clingfilm and pass each Scotch Egg through flour, then egg and finally the breadcrumbs.
For best results, deep fry the Scotch eggs for 11-12 minutes at 160c. Best served warm with Stokes Red Onion Marmalade. Alternatively, you can spray with veg oil and cook then in a hot oven (about 200c ) for 30-35 minutes until golden.
As always, enjoy!