Colcannon with Sausages, Maple Bacon and Mustard
A Stokes recipe by our Resident Chef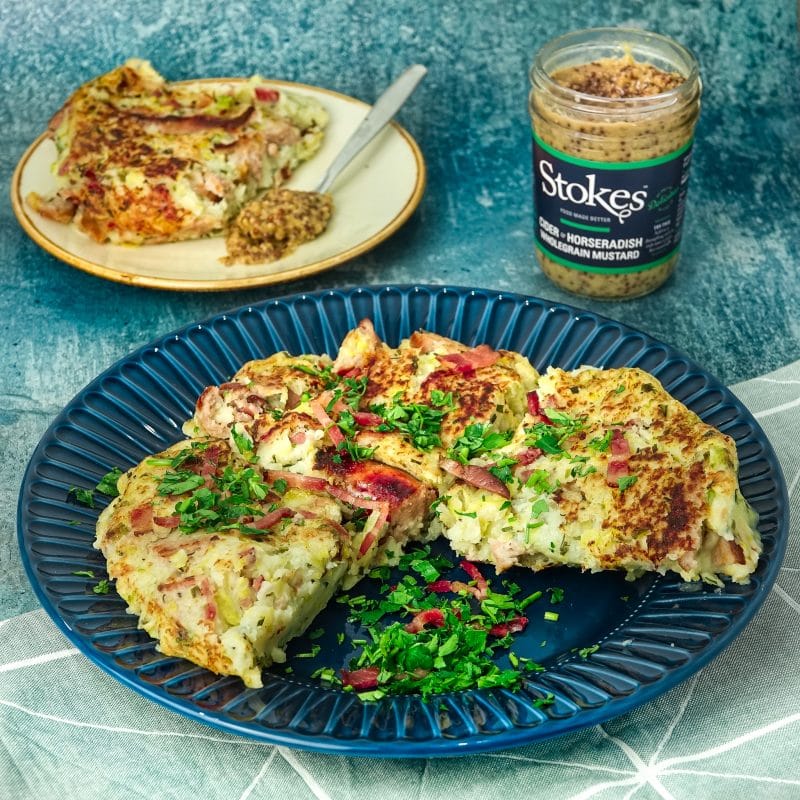 What you'll need
Buy now
Cider & Horseradish Wholegrain Mustard
Add Selected Products
From your local shop
4 Large Maris Piper Potatoes
½ Savoy Cabbage
1 bunch of Spring Onions (chopped)
6 Rashers Maple Cured Bacon
4 Butchers Sausages
100ml Double Cream
Butter for cooking
Salt & Pepper
Method
Peel and cut the potatoes into even medium sized chunks. Place in a deep saucepan and cover with cold water and add a good pinch of salt. Cook for 15-20 mins until soft.
While the potatoes are cooking, thinly shred the savoy cabbage. Add to a frying pan with a cup full of water, salt and cook for 8-10 mins until the cabbage is tender.
Cook the sausages and bacon in a hot oven (180 C) until golden and cooked through.
Drain the potatoes through a colander and allow the steam to dry the potatoes for a few minutes – this will help to achieve a nice fluffy mash!
Drain the cabbage and allow to cool slightly.
Mash the potatoes with a knob of butter and double cream. A good tip here is to invest in a handheld potato ricer. They make perfect mash!
Mix in the cabbage, spring onions and 2 tablespoons of our Cider and Horseradish Mustard. Chop the bacon and sausages into small pieces and mix well into the Colcannon. Season to taste.
Heat a frying pan with a dash of oil and a knob of butter. Add the Colcannon mix and press down until it forms an even layer like a cake.
Cook for 4-5 mins until the edges start to colour.
The easiest way to turn it over is to cover the pan with a plate, holding the plate flip the pan over and then slide the Colcannon back into the pan and cook for 4-5 mins.
Serve with an extra dollop of Stokes Cider & Horseradish Mustard!
As always, enjoy!