Cheese Scones with Stokes Chilli Jam.
A Stokes recipe by us
Serves 6
30 Minutes
Vegetarian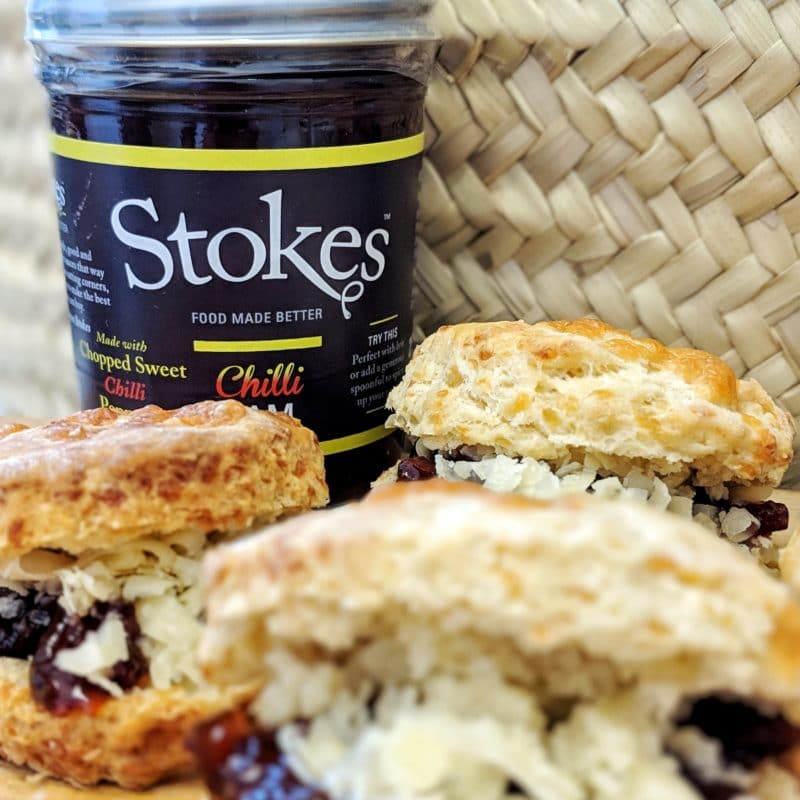 What you'll need
Buy now
Add Selected Products
From your local shop
Self-raising Flour (225g)
Mature Cheddar Cheese (100g)
Butter (55g)
Baking Powder (1 tsp)
Milk (120ml)
You'll probably be tempted to do it anyway, but whilst still warm, spread on a layer of butter and chilli jam and you'll go straight to foodie heaven…
Method
Preheat the oven with the baking tray inside to 190C fan. Sift together the flour, salt, and baking powder in a large bowl
Cut the butter into cubes into the flour mixture and mix with your fingertips to make breadcrumbs. Sprinkle the grated cheese and Stokes English Mustard into the breadcrumb mixture and rub in until the cheese and mustard are evenly distributed.
Make a well in the centre of the mixture and pour in enough milk to give a soft but firm dough. Do not pour in all the milk at once as you may not need it all to get the right consistency.
Lightly flour a surface and roll out the dough to approximately 2cm thick. Cut out the scones with a medium cutter and then place on the hot oven tray. Glaze the tops with the extra milk and sprinkle a little cheese on the top of each scone before putting in the oven.
Bake in the oven for 10-15 minutes or until golden brown and cooked through.
Serve with lots of butter, a dollop of Stokes Chilli Jam and extra cheese if you're feeling decadent!