- Cooking
Just Duck – Duck Tips and Techniques
With Chinese influences for the Year of the Pig
  BACK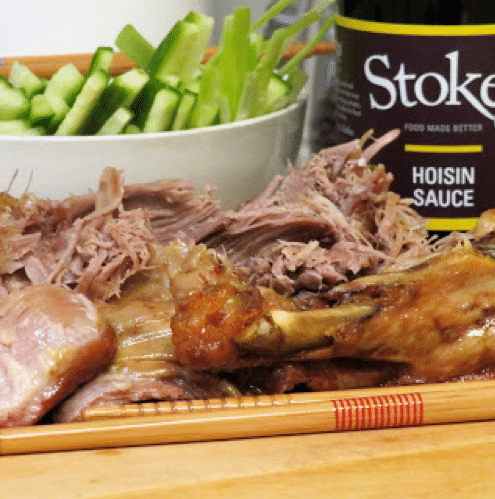 Hoisin Duck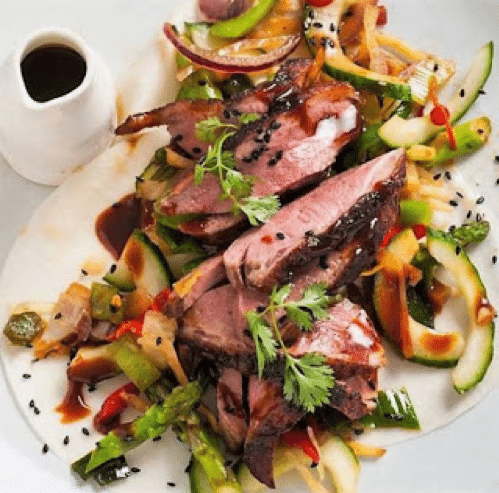 Duck is probably one of my personal favourites. Cooked whole, as a confit leg or à point (rare) slices of breast meat, juicy and pink.
It has some wonderfully natural pairings, particularly fruits such as orange and apricot as well as gentle spices of the orient.
As part of our celebrations for the Chinese New Year on 5th February, we will be sharing some recipes, our simple versions of great Chinese favourites including these Duck recipes here today.
Our friends at Gressingham have some fabulous tips and videos covering some of the basic cooking techniques, which you can find here.
You might find this useful if you happen to be the winner in our Chinese New Year Competition as the prize includes a range of Gressingham's Duck products:
Here's how:
We are serving the Duck with a stir fried salad of thinly sliced vegetables. Use whatever combination you like, whatever is in season perhaps. Here, we have courgettes, pepper, spring onions and asparagus (not in season but nice!). Mange touts works well too. In vegetable or sesame oil, stir fry the vegetables until they deliver the level of crunch you like then add a glass of dry white wine and 2 tbsp of Stokes Sweet Chilli Sauce for 5 minutes more.
For the Duck: Place 1 trimmed breast each in a pan, skin side down, no oil. Turn the heat up slowly and cook for 5 minutes to render the fat down and crisp up the skin. Transfer the pan to a medium oven at 220°C/Gas mark 7 for 6 minutes (pink), 9 minutes (medium). Rest the meat skin side up for 5 minutes before slicing.
For the Sauce: Mix 2 tbsp of Stokes Hoisin Sauce, 1 tbsp of our Chilli Ketchup, 2 tbsp of Soy sauce, the juice of 1 lime and 1 inch of fresh ginger, grated.
Szechuan-style Duck Legs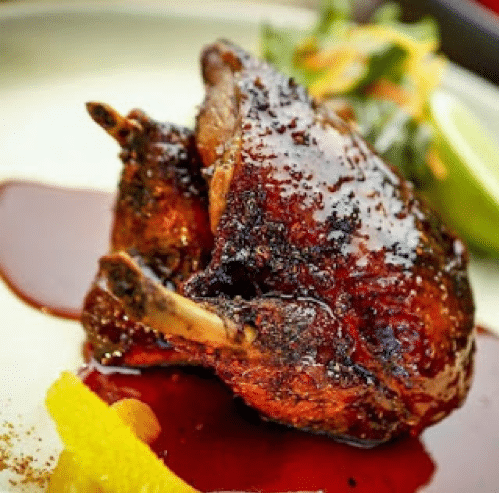 Here's how:
In a bowl, mix 2 tbsp of Stokes Chilli Ketchup, 2 tbsp of Stokes Hoisin Sauce, 2  tbsp of Stokes Tomato Ketchup and 1 tsp of Chinese 5 Spice with the juice of 1 lime and 1 inch of ginger, grated.
If it is too hot, add more Tomato Ketchup and lime juice, alternatively more Chilli Ketchup if you prefer more punch.
With a skewer, prick the skin on the Duck legs, particularly the thick parts of the thigh, then coat them in the marinade. In a roasting tin, make a trivet of celery, fennel and slices of orange. Add water half way up the trivet then pop the meat (skin side up) on top.
Roast them for 90 minutes at 180°C/Gas mark 4. This slow cooking allows the duck to steam in all those flavours until it falls deliciously off the bone. Remove the meat and rest it on a warm plate under some foil.
Drain the cooking liquor into a glass bowl. After 5 minutes spoon as much of the separated fat off the top. Pour the juices and any leftover marinade into a pan over a high heat to reduce the sauce. Add a drop of orange juice and reduce to taste. Serve this with noodles and a stir fried salad as above.
Duck Chow Mein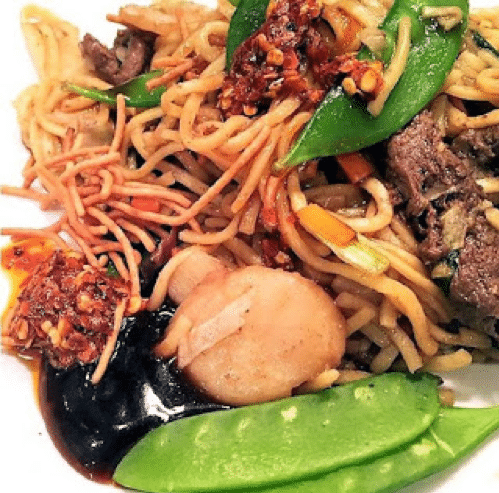 For some, the thick layer of fat on a Duck breast puts them off (for others, it's the best bit). This take on a Chinese classic removes the skin before cooking.
Here's how:
As with last week's chow mein (here), the key to any Chinese cooking is preparation.
Based on 1 breast each, cut the fat and skin away from the meat, slice it thinly and soak it for as long as you can in a marinade of 250 ml of orange juice, 1 tsp of rice wine vinegar, 1 inch of fresh ginger, grated, 1 tbsp of Stokes Sweet Chilli Sauce and 2 cloves of grated garlic.
Prepare sufficient medium egg noodles as directed. Slice an assortment of vegetables including carrot, Chinese lettuce (or Savoy cabbage), mange touts, mushrooms etc.
Now, everything happens pretty quickly. Heat vegetable or sesame oil in a wok. When it is piping hot, throw in all your vegetables and meat and keep it all moving, stir fry, for 4 or 5 minutes. Add 2 tbsp of Stokes Hoisin Sauce and 2 tbsp of Soy sauce. Cook for 2 minutes more then add your cooked noodles. Mix everything together well for a couple of minutes and serve.